Persuant to the message from a few days ago i have put together a sketch of a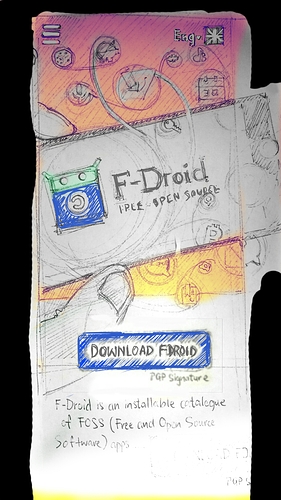 p roposal for the main landing page. I was unable to open the thread from two days ago for some reason.
Because I'm a new user i could only put one image in this opening post, see below for the About, Find Apps and Donate sections. It is still rough at this stage. Interested in whether people like the layout. Basically it shows apps florishing from the phone.
OPTION 1 is with curved organic lines linking the apps as shown in the images.
OPTION 2 would use straight lines to link the apps together.
What would you prefer, if any?
As part of this holistic design process I am recommending offering a mustard colour polo top at the HELLOTUX shop rather than a green polo. The F-Droid logo will stand out more on a mustard color. Such a polo would make an effective background for the donate section, as shown below.
The aim here is to help the new visitor to get a feel of and fully appreciate the lively and diverse open-source, free software ecosystem. My intention will be to design the page to not require javascript to be enabled. So the hamburger icon in the top-left will have an elegant fallback, for example.
Please tell me your impressions. This is a design for mobile only at this early stage.