When I try to install an application using F-Droid, I always get an error saying (in french):
Error when installing

Privileged credentials have not been set to the application. Please report this bug.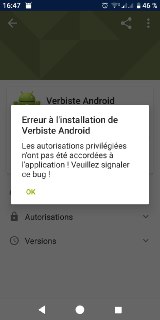 The phone has not been rooted and it is still the stock Android 9 rom that is running on this Xperia XZ2 Compact.
However, manually downloading the apk, and installing it does work.
Si how can I fix the problem to make F-Droid usable?
Is this problem linked to this one: F-Droid as System App?