Hi, OsmAnd seems to be a well-known FOSS app on F-droid. Using it first time I normally wouldn't hesitate to install it, also because of its recommendations on various sites.
But Anti-Feature warnings look quite scary and have potential to shy away privacy-aware users: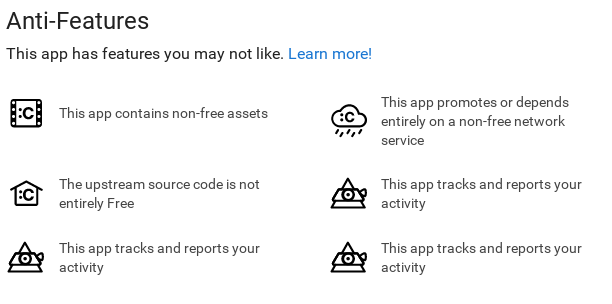 Organic maps for example is free from anti-feature warnings (neglecting it is not completely congruent).
What I'd like to question:
In practice, is the app's privacy better than it reads from F-Droid standard text templates? OSMAnd's free text sounds a bit more reasonable:

Anti-Features:

NonFreeAssets - The prerecorded voices are under a non-free license.
NonFreeNet - May use maps and download images from non-free online services.
Tracking - a unique installation ID is sent alongside map download requests. See here.

At developers and contributors: Is there an easy fix to make the app adhere more to F-Droid principles, so that it doesn't scare potential userbase?
Best greetings