Device? Android version?
Did you press update and you were asked to install (press INSTALL button for each one)…they installed and now it says this?
samsung a52s 5g android 12, i update and install many times but same result. just today the updates not showing any more after 3 days
I just tested this on a Samsung Galaxy S9, Android 10 (Samsung), F-Droid 1.15.2
I updated the package list and had 5 apps wanting updates.
After downloading and installing the updates some still show up as wanting updates. I installed the updates for "Element" 3 times now - shows still up as wanting updates.
I closed F-Droid in between these updates.
I had this for roughly a year. Since the apps themselves are up to date only the internal representation within f-droid is wrong.
If you go to app details, expand Versions, is the latest one installed? Pic?
F-Droid says that 1.4.20 of element is installed but 1.4.25 were available.
In the app element it says that it is version 1.4.25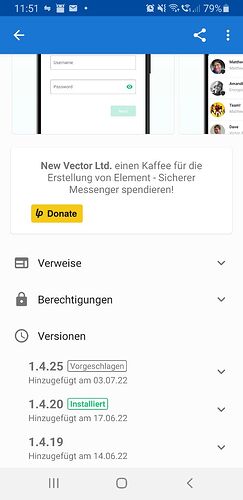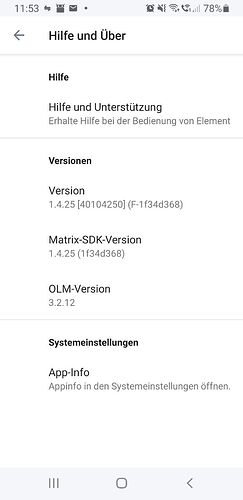 Try to clean app data and resetup (repos, autodownload etc), and retest.
You mean within the android app settings, right?
Fun fact: it says there that f-droid uses 2.4GB:
app 28.37MB
data 1.11GB
cache 1.26GB
Gonna clean the cache in the first try
After cleaning the cache it shows the 5 apps I updated 15 mins ago in the newly started f-droid.
Data-wipe coming up…
Well, now there are no updates anymore. But does f-droid know of any installed apps that they were installed from within f-droid?
But f-droid says that version 1.4.25 of element is installed. So far so good now.
This topic was automatically closed 60 days after the last reply. New replies are no longer allowed.