Looking for a FOSS alternative for BubbleUPnP I hit on YAACC (https://f-droid.org/de/packages/de.yaacc/ ) new on F-Droid for some weeks.

Sounds impressive while the provided product is disillusioning. Coming with an outdated Android 4 theme the app crashes all the time, ignores settings (starting of the built-in player though it's disabled in settings, browsing/showing audio files though they should be excluded), built-in image player doesn't work, loading of folders and content takes days, missing of any documentation, etc.
So besides a relocation of repo site from SouceForge to GitHub and a new identity of the so called "dev" it seems that development is standing still. Already on SourceForge it was struggling with some issues (https://sourceforge.net/p/yaacc/tickets/122/) that couldn't be solved: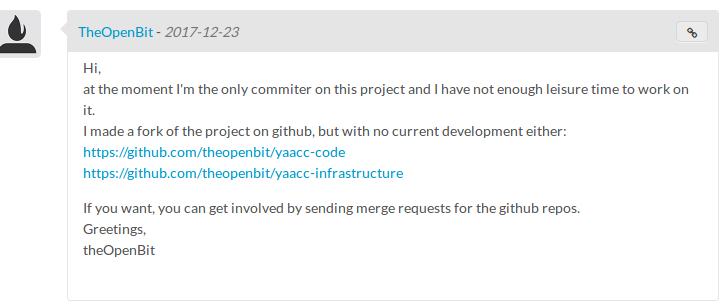 Now the revival on F-Droid supposed version 2.1.x, obviously hardly tested.
I fail to see how such a crap that is a beta at its best could land there. Actually its an impertinence to offer the useless thing as an app for "end users" like announced as "Intended Audience" on the SF site and I' m in doubt wether this stuff is an enrichment for the F-Droid repo but rather a damage for its reputation.