Droid keeps on showing error message when wanting to download something
F-droid should work without problems on any android phone including xiaomi. What exactly is the error message?
Do read Xiaomi | Don't kill my app! to fix autoupdates and whatnot

The app has been updated.But same problem,but different text.
It used to say abunch of jumbled text then after the words "not installed".
But now it just says "not installed".
What model and OS is it? Did you check any connection settings which maybe locking out the server connections to FD etc?
I don't know what you are talking about sadly. But in my settings it says that it's:Miu version is 12.5.8.0(RKFEUXM),Android version is 11 RKQ1.200826.002.
I don't know what you can do kind stranger but hopeful one of those hit the mark.
Maybe it's because I didn't update my phone?
I will update now,notify if anything works.
Either disable Tor in Settings or start Orbot.

/PS: your device can't take screenshots?

Ahh yes. The 3rd snap shows the localhost. Did not quiet see that one.
Yes, seems you are using some adblocker/VPN service or tor/orbot. Turn it off and then try. @Wersab
yup, port 9050 mean Tor

To find it more easily, @Licaon_Kter is talking about this setting. It looks like you turned it on despite not having Orbot installed or running. Make sure it's set to off: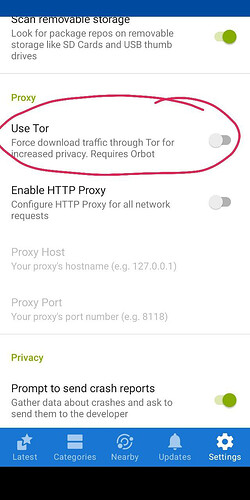 Yep I have been using torbot, I guess that is the problem.
The problem is that I was using Tor. so F droid has some cookies like feature which doesn't like being privately emmited.
It's called Orbot, fyi
The problem is that you were NOT using it since it was stopped
There's no cookie involved, in general, and none used by F-Droid
Cookies are a website thing in general, not related to the way Tor works, or Orbot works, or F-Droid Client works.
This topic was automatically closed 60 days after the last reply. New replies are no longer allowed.