increase my privacy on non rooted verizon phone?
Sell or trade it and get a non-carrier branded phone. Then, try an independent custom ROM and Post Install - DivestOS Mobile
A lot of your suggestions are consistent with the above link, but here are some contrary thoughts.
Using no SIM
Yes, but at that point the device is almost just a tablet, and not really a phone. Except, it can still send those radio signals that can be received by cell towers and other entities.
No need to pay for server
If you don't pay for the service, you and your data may be the product.
No email on phone.
The list of what you do use the tablet for must be short, but I can see reasons for this lack of convenience. Alternatives include using tor browser and accessing email infrequently, and not automatically.
odysee link
Rob Braxman Tech. If there is a better privacy channel anywhere, I'd like to see it.
Sure, he has some valid concerns and points; however, I have to lump him in with all the others who basically scare people into switching to different trackers. While, of course profiting from it.
Why? See all the 3rd party javascript, including, yes the Google he rants about. Screenshot #1:

Screenshot #2: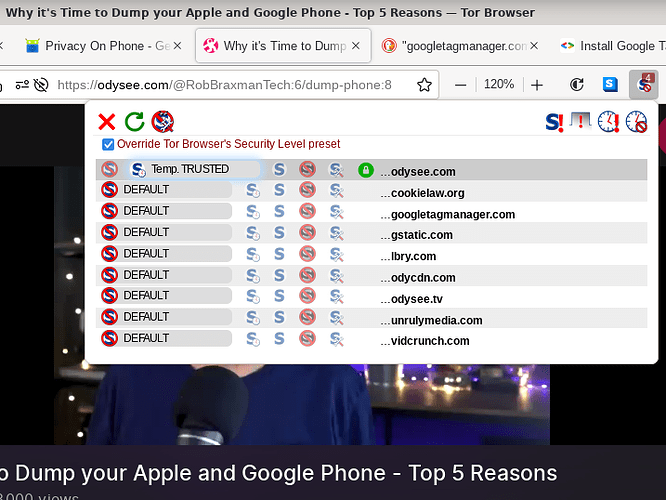 Suggested alternatives for retrieving the video:
# get available formats:
torify youtube-dl --list-formats https://odysee.com/@RobBraxmanTech:6/dump-phone:8

# retrieve one:
torify youtube-dl -f hls-140 https://odysee.com/@RobBraxmanTech:6/dump-phone:8